Skip to Main Content
It looks like you're using Internet Explorer 11 or older. This website works best with modern browsers such as the latest versions of Chrome, Firefox, Safari, and Edge. If you continue with this browser, you may see unexpected results.
LLILAS Benson Digital Collections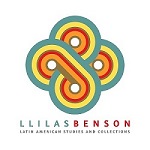 LLILAS Benson Digital Collections
The Benson Latin American Collection and LLILAS host or have lots of research resources on line that might be relevant to your topics.
Finding Books (and other items) Alkek
Search the library catalog for print resources, ebooks, movies, and more!

TIPS:
Use "Quotes" for Keyword phrase searching

Click on the title to see subject headings (if you're having trouble with keywords)

Use truncation, for example if searching for political or politics, you can type polit* and get any form of the root word before the *.
You can use the Library Catalog's drop down menus to only display content in Spanish.